ON1 Photo RAW 2019 is the latest version of the ON1 editing software. ON1 Inc. has created various editing programs over the years including their successful Photo RAW software, ON1 Effects, and ON1 Resize.
In this ON1 Photo RAW 2019 review, we take an in-depth look at the latest version of their flagship product. This editing program is often touted as direct competition with Adobe's Lightroom and the two do share similarities.
ON1 RAW 2019 can be used as both a photo organizer and an advanced editing tool. For professional photographers, this program can greatly boost your efficiency and help you produce some magnificent end results.
Read on in our ON1 Photo RAW 2019 review to find out exactly what this program has to offer:
Costing / Trials / System Requirements
In the first part of our ON1 Photo RAW 2019 review, we will look at costing and system requirements. There is a trial version of the software, and users can either purchase a standalone version of the full product or upgrade from their 2018 version.
1 February 2019 Update: ON1 RAW 2019.2 Update is now available: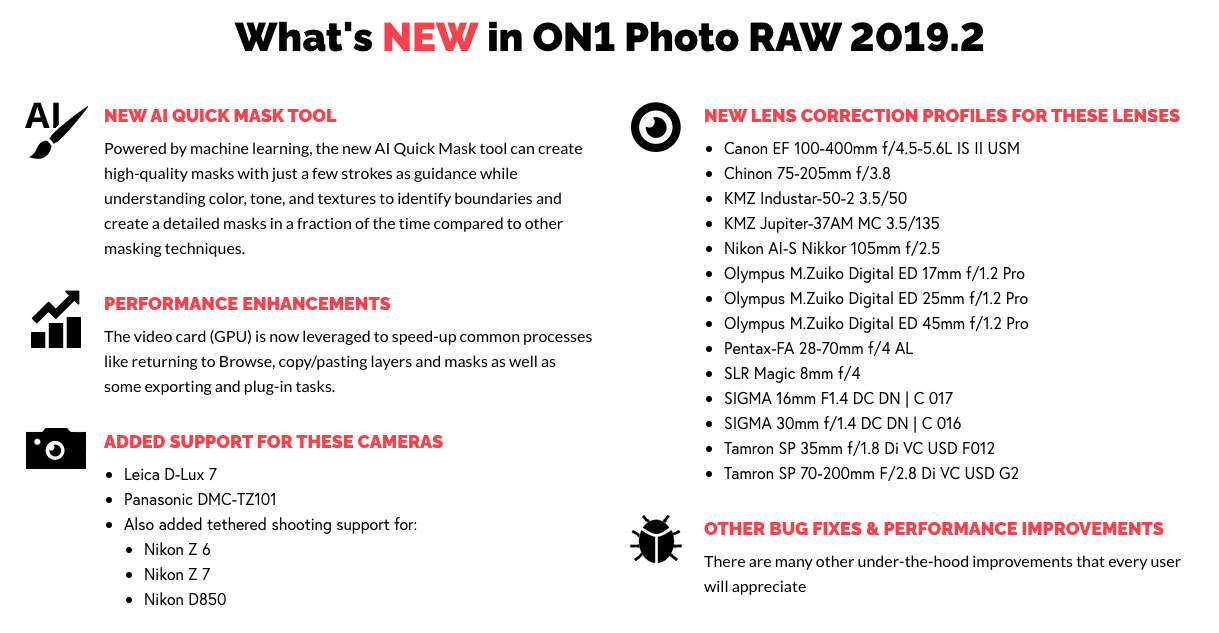 ON1 Photo RAW 2019 – Full Version
The full version is available as either an upgrade from the 2018 version or as a standalone product. Prices for each are listed below and are accurate at the time this article was published:
ON1 Photo RAW 2019 Upgrade at $79.99
ON1 Photo RAW 2019 Full at $99.99
Minimum System Requirements
Operating System: Minimum of Windows 7 or MacOS X 10.11
Processor: Minimum of Intel Core 2 Duo or Xeon processors
Memory: 4GB (16GB will give better performance)
Storage: 1.5GB (5GB is recommended to provide space for saving files etc.)
Screen Display: 1280×768 res / 16-bit color / OpenGL 3.3 compatible graphics card with 256mb RAM
Graphics Drivers: DirectX 9 or later
It should be noted that this product is currently only available as a 64-bit version. As you can see, the system requirements are quite strenuous. You will NOT be able to run this program with anything below the minimums – it will simply run too slow.
If you want to get the most out of this software then you need a high spec pc or mac capable of running graphics design software. Memory is one of the most important factors – the minimum is 4gb but with anything less than 8gb ON1 RAW simply won't run smooth. To multi-task and switch quickly between workplaces, 16gb of RAM is advised. We appreciate this may seem excessive, but your device will benefit from it!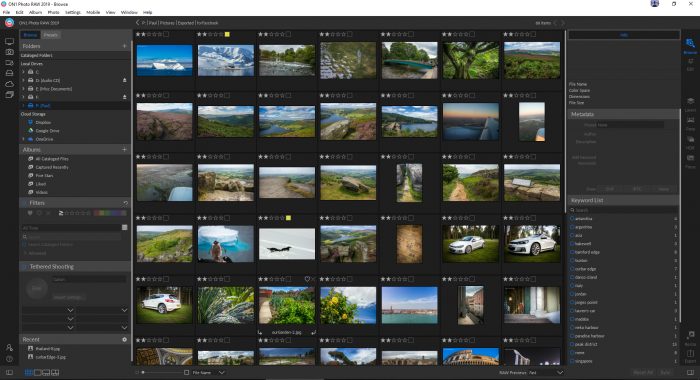 Part 1 – Performance
Performance of any photo editing software is essential. Whilst creating our ON1 Photo RAW 2019 review we looked at how the program performed various tasks. As stated above, you NEED a high-spec computer to run this program effectively.
Software load time – The actual program itself takes little to no time at all to load. The opening times can slow down depending on the size of your photo catalog. Furthermore, if you have multiple programs open at the same time, you could notice a slight delay.
File loading times – Opening files is a painless exercise – this generally depends on your HDD but for the most part, you can open and import files quickly.
Menu navigation – When using the top menus there is no discernable lag at all. You can navigate through the various sub-menus with ease – the transition animations are smooth too.
Editing – Performance whilst editing will depend entirely on your device spec. Furthermore, it will depend on what file you are editing, and what tools you are using. When using a device that has only the minimum specs, editing will not be instant.
Besides, if you are editing a large RAW file, there is more info to process therefore editing will be slower. In comparison to other programs, the editing is fine – this type of software is processor and memory intense anyway.
Part 2 – Storage, Organization & File Management
A program such as ON1 must have fantastic organization and file management features. Photographers and graphic designers must have an easy way to manage and catalog their images. You do not want to spend hours trying to find photos or organize your work. Efficiency is key and you want to be able to work as quickly as possible so that you can provide short lead times to your clients.
When looking at our ON1 Photo RAW 2019 review we spent time analyzing the organizational features of this program. In the sections below we share our findings – in particular, we looked at file storage and management, filters and searching, and importing/exporting:
File storage and Management
How easy is it to navigate through your folder hierarchy in ON1 Photo RAW?
Quite easy actually! As you can see in the screenshot below, the folders tab is located on the left-hand side. This contains a full hierarchy of your HDD. Simply click on the arrows to maximize a folder and view any sub-folders it contains. When you click on an individual folder containing images, the preview thumbnails are displayed in the central viewing pane.
It is possible to access files from your HSS and any other location on your device. Additionally, you can use cloud storage locations such as Dropbox and Google Drive. To help quick categorization you can also create albums such as "five stars", "captured recently" and "liked". This means you can find certain types of photos quickly.
If you wish, you can alter the folder hierarchy.
Firstly, you can create new folders and delete them too from your HDD.
Secondly, you can easily move images and change their location within the folder hierarchy.
We found ON1 RAW 2019 it to be extremely robust and fantastic to navigate.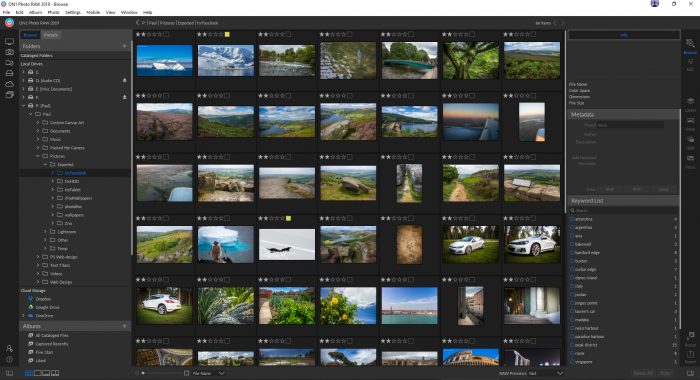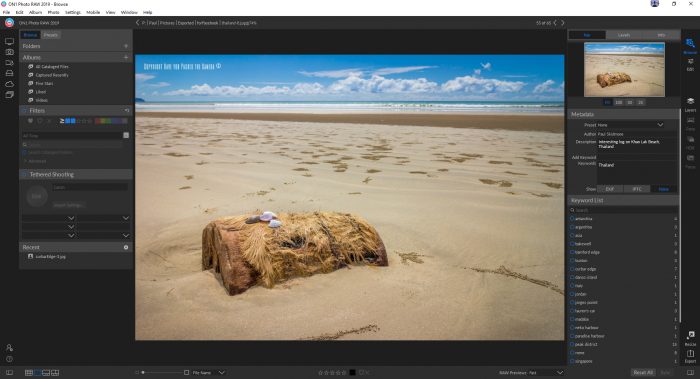 Filters and searching
Photographers and designers have a huge catalog of images. They must be able to search through that catalog easily. This is where filters and search functions are useful. If an editing program has searching capabilities, you can easily find the photos you are looking for. During our ON1 Photo RAW 2019 review we tested the filters and searching functionality – the results were favorable.
It is possible to apply filters to your images. You can select certain criteria to search for images that only match those exact settings. First and foremost there are the star rating system and colors. You can assign a star rating of between 1 and 5 to each image.
Moreover, you can assign a different color. Using these filters, you can then search for an image. In the example below, we searched for images that had a 2-star rating, and a color of yellow.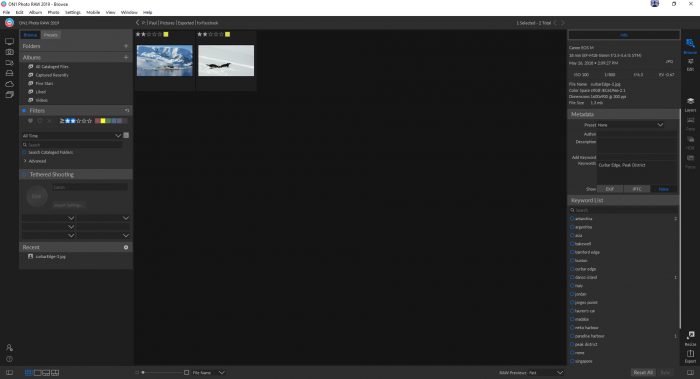 Aside from star ratings and colors, it is also possible to search by keywords. In the META data section of your image, you can assign keywords. As you can see in the right-hand column, you can then select different keywords and search for photos that match. The search function was fantastic and we could easily find individual photos within a large catalog.
What's more, ON1 Photo RAW 2019 actually imports your catalog settings from Lightroom – therefore if you have already defined filters and keywords, they will still display in ON1.
Importing and Exporting
Importing and exporting are two important factors to consider. When working with photos you want to be able to easily import them from your DSLR camera, SD card or other devices.
Furthermore, you want to have flexibility and have the facility to apply blanket settings to these photos. On the flip side, once you have finished working on your photos, you want to be able to export them easily for further use.
Importing
The importing feature is straightforward to use. Simply click on File > Import, and the dialogue box will open. There are several tabs you can use when importing images:
Location
Rename
Add Metadata
Photo Settings
Edit Capture Date
Location simply allows you to specify where the images are saved too – you can specify an existing location or create a new folder.
Rename allows you to change the file name of the imported images. Usually, when images are imported from an SD card they will have a numerical name – you may want to change this to make the files easier to find. You can apply bulk renaming to all your imported images and even sequential naming too.
Photo Settings allows you to add preset editing to your files – let's say you have a generic edit that you apply to all your photos – you could save this as a preset and apply it to all your imported photos too. This is really useful if you have a large batch of photos that don't need a great deal of editing.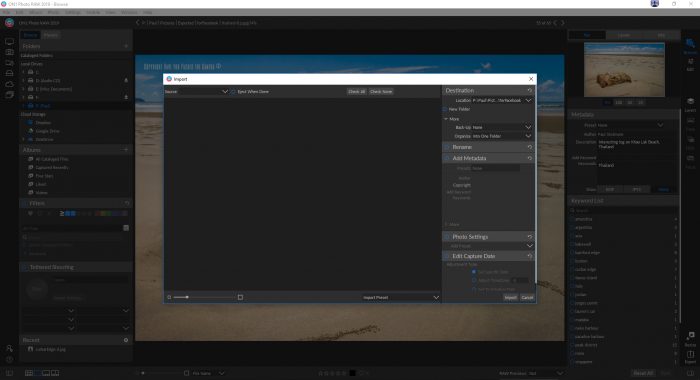 Exporting
We tried a variety of different exporting settings when compiling our ON1 Photo RAW 2019 review. The exporting feature is extensive and has great functionality. It gives you fantastic control and is fast too. The following are available features when exporting:
Photo size
Watermark
Sharpening
Tiling
Gallery wrap
Location
Rename
Using the photo size tab you can resize the images and also select the desired file type.
Watermark allows you to add your own copyright mark to protect your images from scammers and plagiarism.
In the sharpening and tiling tabs, you can improve quality of your images if required.
Finally, the location tab allows you to specify where you want the exported files to be stored – you can also choose to rename the files if you wish.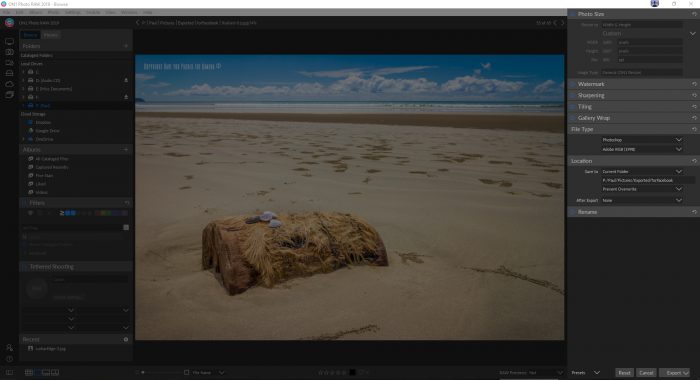 Part 3 – RAW Editing
Actually editing your photos is one of the main points of this program. In the editing section of our ON1 Photo RAW Review we look at what editing features are available and how effective they are:
Basic Editing Features
The basic editing features can all be found in the right-hand toolbox once you have selected to edit a certain photo. We spent time editing some photos and testing out the features – we have included an example of a before and after shot of a photo, we worked on using ON1.
The following are some of the main editing categories and how you can use them: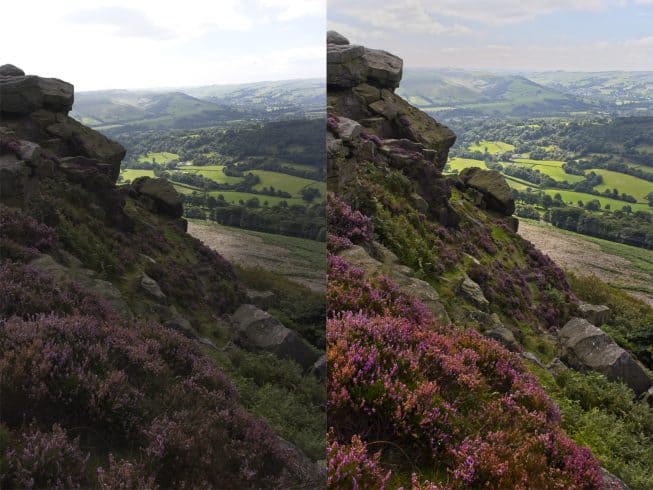 Layers
The layers tab simply allows you to add new layers to your image – this is useful for masks, overlays and combining different images together. The layers tab was simple with basic mechanics that you would expect such as duplicating layers and renaming them.
Tone & Color
The tone & color tab is the main editing section – this is where you will do most of the work.
In this section, you have important sliders such as exposure, contrast, highlights, shadows, structure, and haze.
Moreover, there is a whole section dedicated to color where you can change the temperature and also play with the saturation and vibrancy. The sliders were easy to use although we found it was a little annoying that there was no double click feature to return the slider to its original value.
Details
In the details section, you can deal with noise and sharpness. These are two troublesome nuances that can really affect the quality of a photo. We liked the fact that you can choose from several default settings, but can also tweak the sharpness and noise individually. The functionality worked really well and the "remove hot pixels" feature also helped clean up particularly noisy photos.
Lens Correction
When shooting photos with a digital camera, you can often incur distortion from your lens. ON1 Photo RAW 2019 allows you to automatically correct this using the lens correction tool. It can automatically detect the lens used which is really cool.
Furthermore, you can then manually remove the distortion, or simply run an automatic tool which seemed to work well.
Transform
Finally, we have the transform toolbar. This essentially allows you to rotate and re-position your photo. Maybe you took it at the wrong angle or the horizon wasn't aligned? The transform tools can correct errors such as this with ease.
Editing Presets
If you struggle with editing inspiration, ON1 Photo RAW 2019 has a plethora of presets. These presets allow you to quickly and easily apply a stylish edit to your photos – you can minimize your work and benefit from the creative inspiration they provide. If you don't like the end-product, you can tweak the settings and parameters of the presets too.
To apply a preset, all you have to do is click on the "preset" button in the top left-hand corner. This will bring up a menu containing all the different categories. Simply click on a category and then click on your chosen preset – it will then be applied to your image. You can then use the editing toolbar, as usual, to tweak if necessary.
The following are the categories of preset edits available:
Architecture
Black & White
Cinematic
Color Film
Color Grading
Faded & Matte
Film
Haze Reducing
Hipster
Landscape
People
Sports
Starting Points
Urban
Weddings
The quality of the presets is fantastic. There is so much variety to choose from – you can apply a myriad of different edits to suit so many different situations. In the example below we applied the "Nicely Toasted" Hipster preset: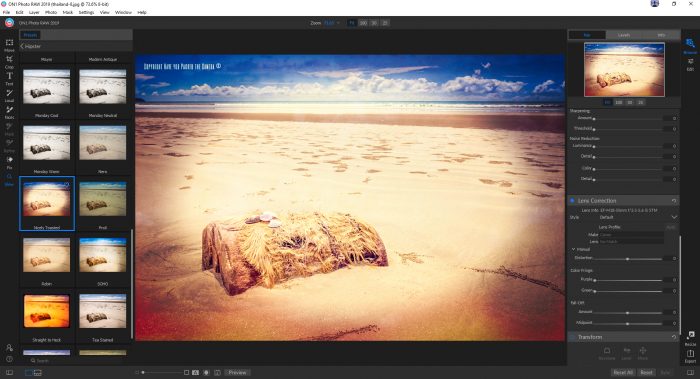 Editing Tools
ON1 Photo RAW 2019 has a multitude of standard editing tools. These are tools you would expect a program such as this to have. They provide basic editing functions such as resizing, adding text, and fine-tuning certain parts of your image:
Crop
The crop tool is straightforward to use. Once you select the crop tool, it will automatically place a cropping mask over your image. Simply drag the handles to the size you desire and press enter. You can select specific crop ratios such as wide angle, or even enter specific pixel sizes.
Text
It is possible to insert text over your image. This could be useful for promotional pieces, marketing, or even Instagram quote images. The text tool is simple to use – all you have to do is select the tool in the left-hand toolbar. Once you have done this, select on the image where you want to insert the text and type it in.
You can then change the font, size, alignment and text color. We liked the fact that ON1 draws fonts from your own font folder, therefore, you can use fonts that you have downloaded.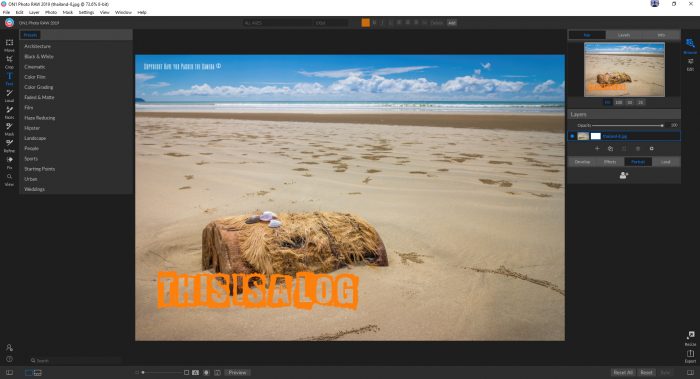 Local Adjustment
The local adjustment tool is like the adjustment brush in Lightroom. This tool should be used if you want to make localized edits to a certain area or object. Once you select the adjustment tool, the right-hand tool-box is filled with the editing options.
You can change parameters such as exposure, contrast, highlights, shadows, noise and color temperature.
Moreover, you can also change the opacity to make the adjustment less visible. We found the tool easy to use – you can adjust the size of the brush using the brackets keys.
Furthermore, you can create a visible color mask to show where you are brushing – we found this useful as you can see if you have brushed in places that you shouldn't have.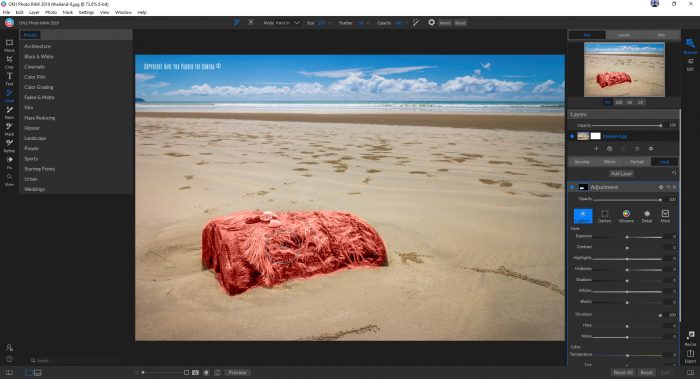 Part 4 – Summary / Pros & Cons
Now that you have read our ON1 Photo RAW 2019 review, we will summarize with a few final thoughts.
In reality, there is very little negative to say about ON1 Photo RAW 2019. It does what you want. If you want to organize your photos and manage them easier, ON1 delivers. Alternatively, if you want complex editing features, ON1 again comes up trumps.
There isn't really an area that this program falls short. The only issue we found was the performance. To run ON1 Raw smoothly we really advise using a high-spec device. If you run the program using the minimum requirements then you may experience latency. RAM, Graphics card memory and HDD speeds are the most important factors.
The following are some pros and cons we found from our ON1 Photo RAW 2019 review:
Pros
Automatically import's catalog settings and file information from Lightroom
Fantastic folder organization
Superb search functionality including keywords and filters
A range of preset filters
Advanced editing tools giving great control over images
Cons
Performance is not fantastic at the minimum specifications
So there you have it – our comprehensive ON1 Photo RAW 2019 review!
From reading this review, we hope you now have a firm understanding of what this program has to offer.
AS A STANDALONE PRODUCT, WE FEEL THAT ON1 IS A SOLID CHOICE.
It has a plethora of features and excels at both photo editing and file organization. If you are a photographer or graphic designer, this program will improve your workflow and help take your work to the next level in terms of quality and editing.